look, it's winfield! i figured i'd give you guys a full body shot, since he's pretty much way awesome.
also, i thought maybe it would be cool if i did a little featurette on some of the cool comics i like to read! every so often in the future, i'm gonna tell you all about a comic or artist that/who i really enjoy or that/who inspires me. tonite, i thought i'd share Get Fuzzy with you guys!
Get Fuzzy is a really fantastic comic by one Darby Conley ("a man called Darby Conley," for those of you who were at Senor Iguana's last nite) about a man (Rob), his dog (Satchel Pooch) and his cat (Bucky Katt).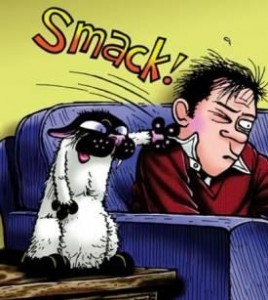 here's Bucky. he's crazy.
and here's Satchel, he's my favourite.
so, Get Fuzzy was the first comic that i really read. back when i was in high school, i would visit comics.com every morning to read it, and i even bought the first six collection books, and they're absolutely wonderful. Darby Conley is a brilliant comic writer. his comics are constantly funny, deeply touching, and sometimes nerdy. i definitely recommend it, especially if you have experience with dogs, cats or both. look, here's a somewhat recent comic!
you can read more at
http://comics.com/get_fuzzy/
.
this is post 124